This
post
was originally published on
this site
https://i.guim.co.uk/img/media/ced222ec7fb141efbfd82cf2c54f7953137f3962/0_603_4032_2419/master/4032.jpg?width=140&quality=85&auto=format&fit=max&s=df071474ad17f750f1d8b59282f03f6f
'Day of disruption' in City of London targets financial firms profiting from climate crisis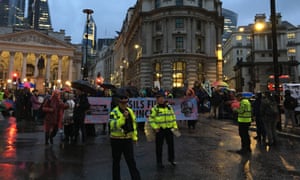 Extinction Rebellion activists have blocked a major junction in London's financial district, as the movement switched its focus towards companies funding and profiting from the climate emergency.
About 100 demonstrators walked into the roundabout outside the Bank of England in the City and sat down in the road at 7am on Monday.
In a statement, the group said: "Extinction Rebellion this morning are disrupting the system bankrolling the environmental crisis.
The day of disruption, which will target financial institutions, seeks to highlight the far greater disruption faced by those living in the environments systematically being destroyed by UK-backed companies.
"The ecological damage is global, and it is hitting the global south now."
Police circulated through the crowds and began making arrests.
Protesters said they were switching their focus to the financial institutions "funding environmental destruction".
Chay Harwood, 23, from Bristol, said: "We are here in the financial district because we know for a fact that these companies and institutions have a vested interest in deforestation and the decimation of people's lives and livelihoods, not only in the Amazon but in the global south in general."
On Monday morning, the Metropolitan police announced there had been 1,336 arrests linked to the protests since they began last week. The rate of arrests appeared to have slowed over the weekend as the group focused instead on mass actions involving members of the general public.
Near the Bank of England, Andrew Medhurst, a former City trader turned full-time activist, said the financial industry needed to realise that some of the projects it was financing were "essentially leading us to destruction".
"We have no more time left in terms of taking action," he said. "We haven't got 12 years. We should have started yesterday. We have to decarbonise our economies, so for the banks to be lending money to fossil fuel companies it's just barmy. It doesn't make sense.
"It basically means there's a disconnect between those emotional family connections [between City workers] and their future children and grandchildren, and making money, which is morally repugnant."