We've partnered with PRETATERRA to encourage a new generation of environmental entrepreneurs in Brazil to scale successful agroforestry methods throughout our rainforests.
Your support allows us to expand the reforestation of native species trees, while regenerating the soil and supporting local communities through the production of food crops that are interplanted. The trees we give back to the Earth are maintained by local people to insure their survival in the field.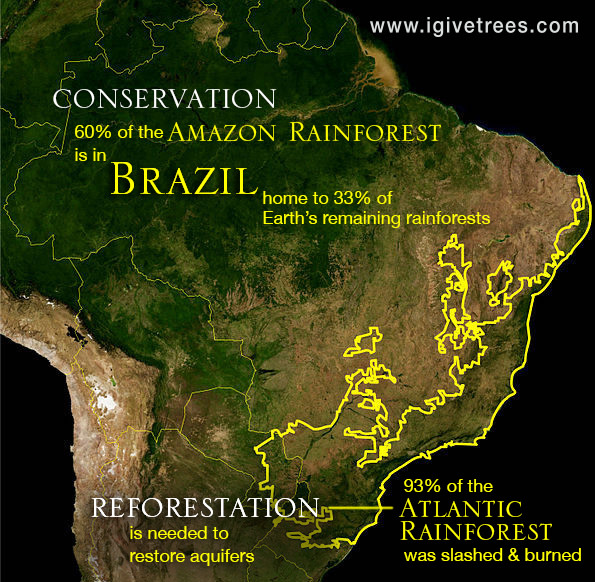 iGiveTrees' mission is to support organic, regenerative agroforestry and afforestation projects, globally, with the aim of carbon drawdown. This includes: sponsoring training events; the cost of soil building materials and their transportation; the construction of native species tree nurseries, water catchment, retention equipment as needed; payment for native tree seed collection; the maintenance of trees that have been planted for two years, by local people. It also includes the travel expenses for the director, staff and project partners to attend trainings and international conferences to represent the work.
iGiveTrees is a Project of Inquiring Systems Incoporated, a 501(c)(3) non-profit in the U.S.A.
EIN 94-2524840
Click below to donate via credit or debit card and consider making this a monthly pledge so that we can increase our capacity.
Please make checks payable to ISI with the notation: iGiveTrees
Inquiring Systems Inc.
Suite 204
Santa Rosa CA 95404
The iGiveTrees campaign has been supported by global citizens spanning 5 continents since 2009. Our field partners plant native species trees at a size, and in a manner, that is conducive to their growth, rather than just being statistics that die off within months due to lack of care. We always respect the dignity, wisdom and value of every person involved in the process, from seed harvesters, to nurserymen, to organizational partners, to subsistence farmers.
In 2016, iGiveTrees was recognized as one of "100 Projects for the Climate" by the French Ministry of the Environment, and was invited to participate in the climate change conferences COP22, 23 and 24 as well as the 4th World Congress on Agroforestry.